ZYGEN FACILITATING SUCCESS THROUGH INNOVATION
We are an innovative SAP consulting company that emphasizes on making better business and life. For ZyGen, it is of utmost importance that our solutions and services help clients to thrive and drive increased profits. We help provide more growth opportunities for the employee and keep them happy—this is our principle that shapes the way we work with our customers," asserts Cholapatr Bhuripanyo, Managing Director at ZyGen. Although there is no perfect recipe for the long term success of a business, innovation is a key ingredient, and this is a well known and accepted fact. Founded in 1999 as SAP professional consulting service, ZyGen's mission statement has innovation imbibed in its core values as a fundamental constituent. The company has been successfully adapting and innovating its services to meet the changing customer needs by building appropriate skill sets, services, and processes. That's why today— whether it is need of mobility or a digital workforce or the need for SAP or non-SAP solutions that can integrate with the SAP ecosystem—ZyGen has broadened its service portfolio to assist companies to stay ahead of their competitors. The company's innovative services include ERP, Mobility, ABAP customization, BI, Analytics, Big Data, AI, Chatbot, Automations as well as Digital Workforce.
ZyGen's team expertise and experience in implementing SAP Solutions alongside cost-effectiveness and their ability to provide innovative solutions make them a "durable differentiator." SAP solutions are still best-of-class, especially for an area such as ERP. However, moving to Intelligence Enterprise, a customer may adopt new solutions from SAP or others. ZyGen provides RPA (Robotic Process Automation) solutions and services that support integration with SAP solutions as well. The company uses RPA to discover new possibilities and scale-up its business, backed by the strong belief, that in order to provide leading consulting business in the digital era, the need for a robot (software robot) is quintessential.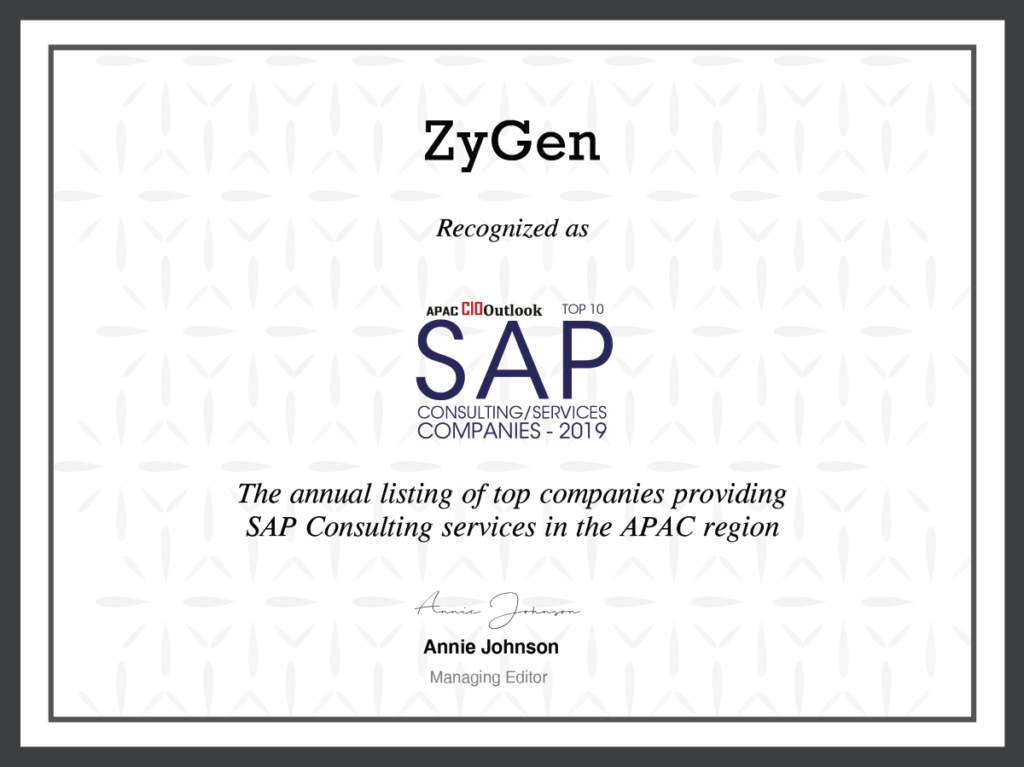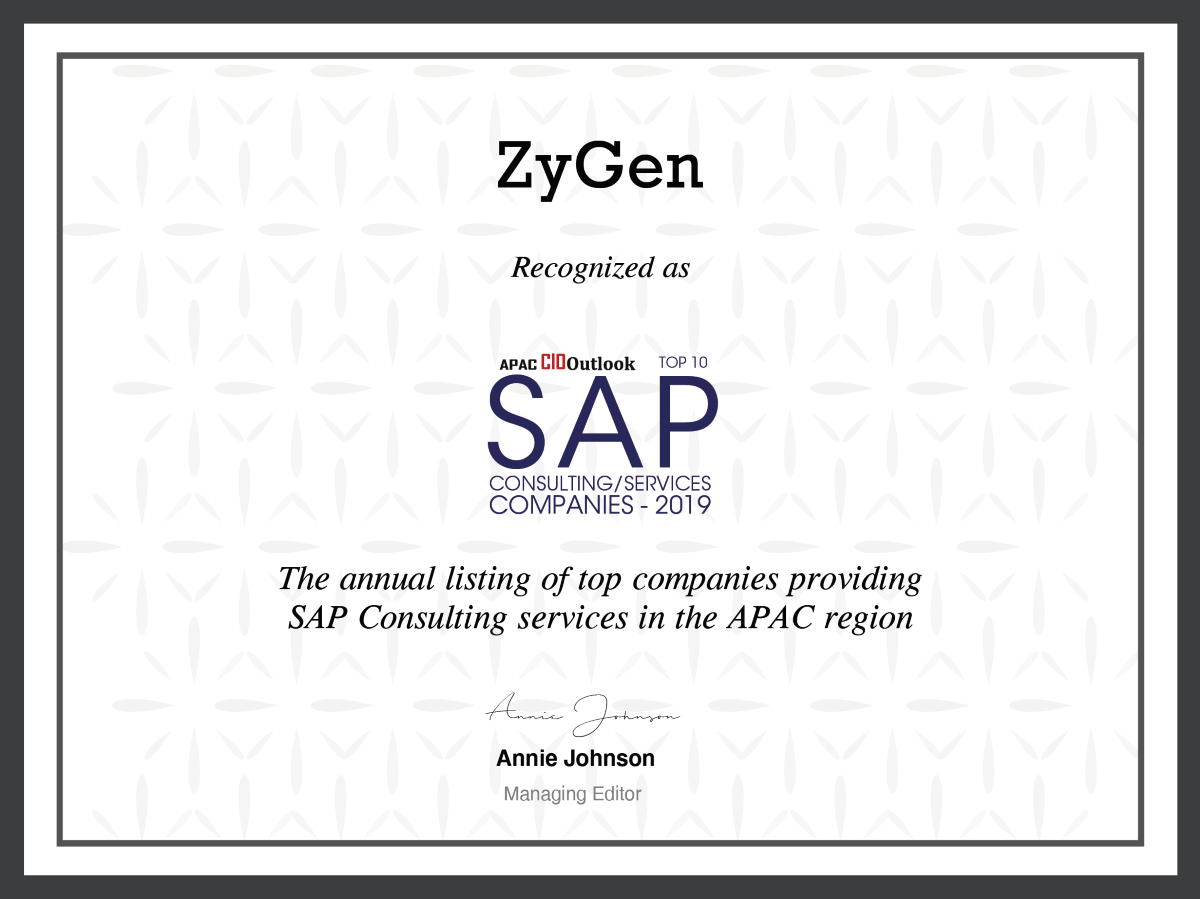 In keeping with the times, it is imperative to have constant upkeep to stay ahead of the curve on the SAP platform front. Moving from ECC 6.0 to S/4HANA is still the best choice for leading enterprises to thrive in the current market scenario and ZyGen ensures that it provides intelligent technologies that are best for their customers. ZyGen assists its customers in upgrading their ECC6.0 to S/4HANA and ensure that they have the digital core works as a good foundation of the intelligence enterprise. The company offers SAP cloud platform implementation and ready-to-deploy solutions that can run on SAP Cloud Platform (SCP) in weeks. ZyGen also has its IP for intelligence technologies in areas of AI/ML/Chatbot that can integrate with SAP solutions too.
According to Bhuripanyo, ZyGen's technical consulting service is one of its major strengths as it provides advanced ABAP customization, SAP mobility, and SAP ERP services to the customers. "We have experience in advanced customizations as per customer requirements, and we also have certified integrated SAP solutions available for our customers. It is not only for classic ABAP program for SAP GUI, as we also have solid experience in Fiori and UI5 customized application," he adds. As mobility is becoming more relevant day by day, the need for an application to be available anywhere anytime on any device is a must, and ZyGen's Fiori and customized UI5 application play an essential role in it.
Having been successfully introduced many solutions in the industry over the last 20 years, ZyGen aims to continue innovating and improving its solutions. The company also plans to reach more customers by expanding its business lines in 2019.
source : ZyGen Company Limited: Facilitating Success through Innovation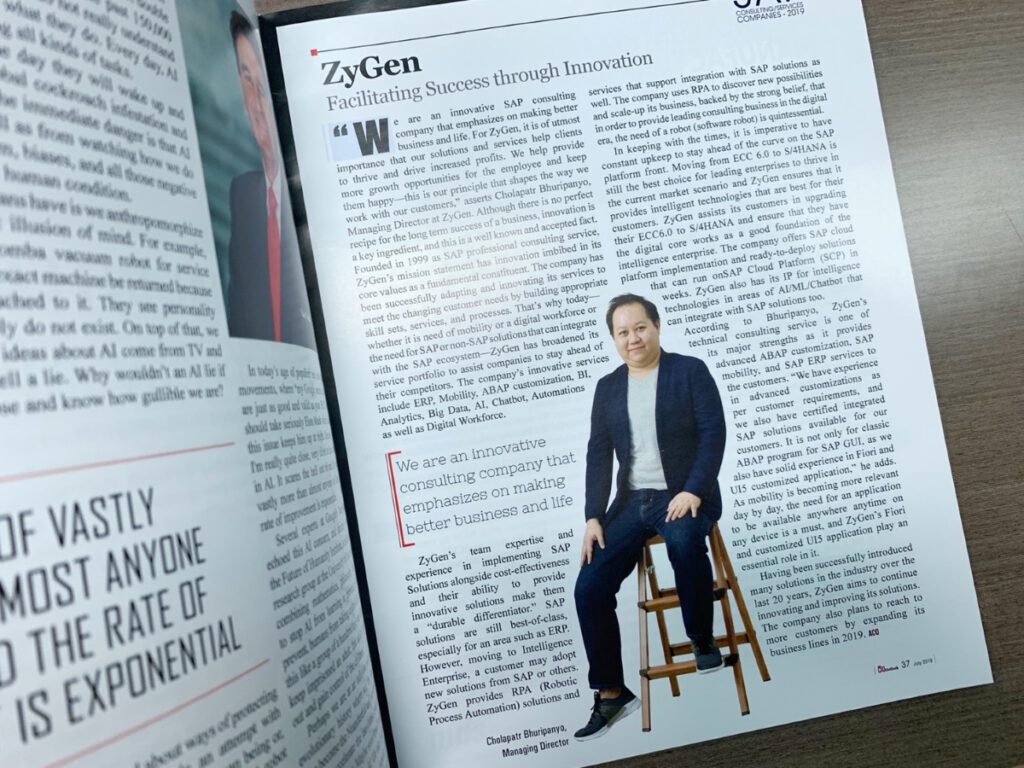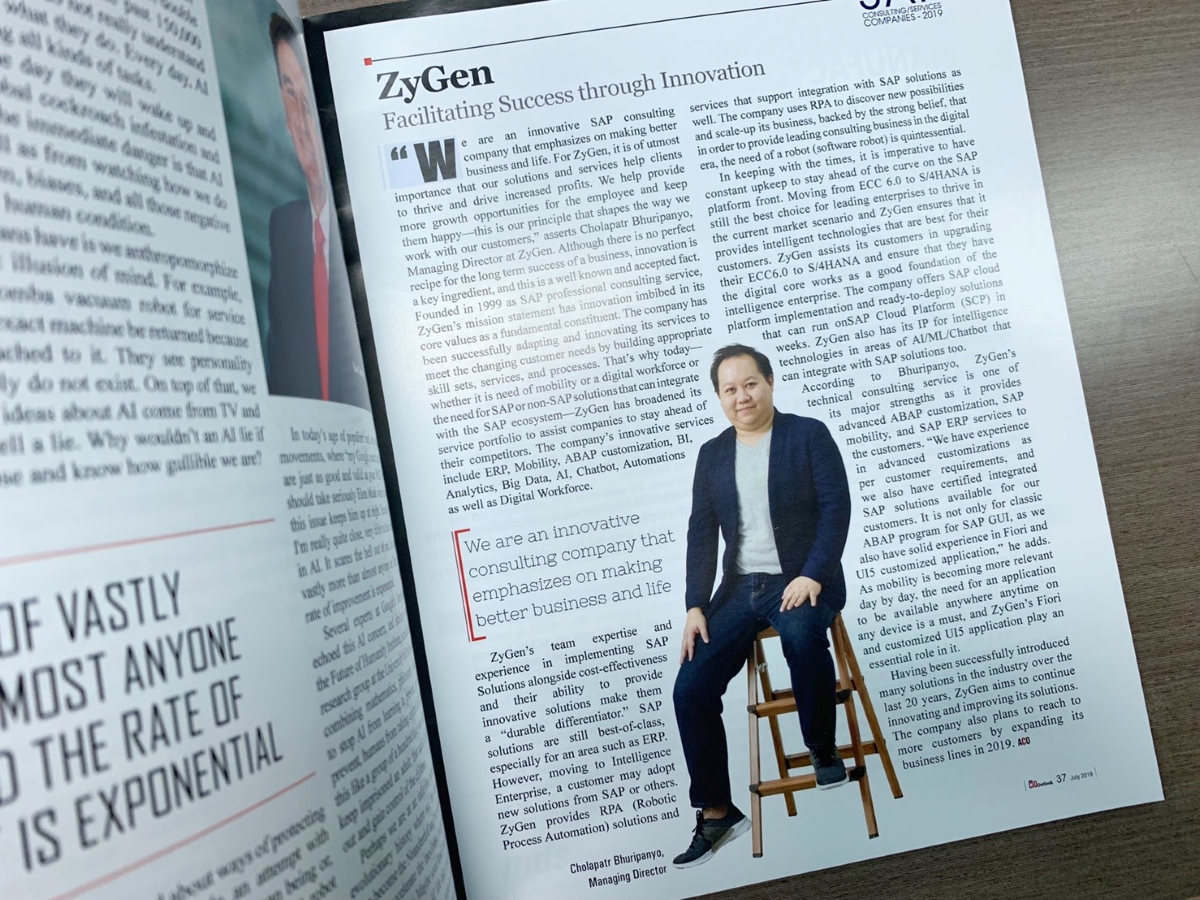 ปรึกษาผู้เชี่ยวชาญ เพื่อรับคำแนะนำฟังก์ชันให้เหมาะสมกับธุรกิจของท่าน