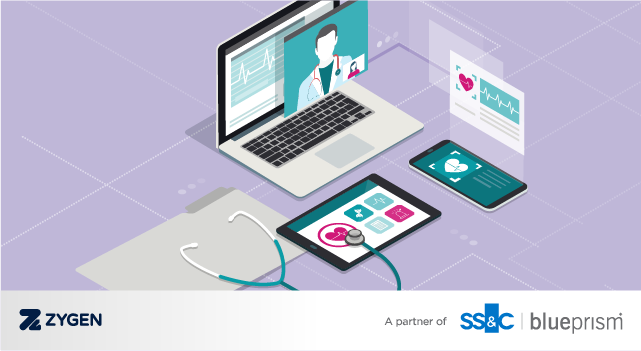 Thank you for your interest in intelligent automation and how it can deliver improved patient outcomes and efficiencies in your healthcare organization. 
Through robotic process automation (RPA) and artificial intelligence (AI), intelligent automation can help healthcare organizations like yours, free your clinical and admin staff to focus on what is really important – your patients and the delivery of your services. 
Through intelligent automation, you can; 
Cut overly manual and time-consuming processes that divert attention away from patient care

Improve efficiencies in your digital back-end operations, such as appointment bookings and reminders

Speed up patient-facing apps and interfaces

Boost staff satisfaction

Manage costs

And most important of all, give valuable time back to your healthcare professionals.
We partner with one of the world's leading intelligent automation experts, SS&C Blue Prism, to provide specialist and expert advice in the healthcare sector. 
We can see our Keeping Healthcare Human content resonated with you. 
To download your SS&C Blue Prism Global Healthcare Report and the Automation in Healthcare – Five Ways to Put Humans At The Heart of Patient Care eBook, please fill in and complete this form 
Working together, we can  improve your patients' outcomes through intelligent automation or boost your existing digital workforce.